Infolinks Ads
Infolinks is a global advertising platform offering ad solutions for both publishers and advertisers. Online advertisers utilize the Infolinks Self-Serve Marketplace to customize their own campaign. Advertising with Infolinks means delivering brand messages to engaged users. You can also use Infolinks ads in addition to AdSense or Media.net ads.
Online bloggers and website owners monetize their websites with Infolinks while keeping the Look & feel of their sites undisturbed. Infolinks publishers can select their winning Infolinks ad combination from Infolinks ad unit options: InFold, InTag, InText, InFrame and InArticle.
Here we'll show you how to integrate Infolinks script on a WordPress site using Ad Inserter – the ads will appear instantaneously.
First you need to sign up as an Infolinks Publisher. This is quick and easy process, all you need to do is to fill out a short form. Infolinks team will review your application within 48 hours. Upon approval you will be able to integrate the Infolinks script into your web pages.
Once you've been approved you can login to the Publisher Center. Click on the Integrate top menu icon, select website for which you would like to integrate the code and you should get your Infolinks code: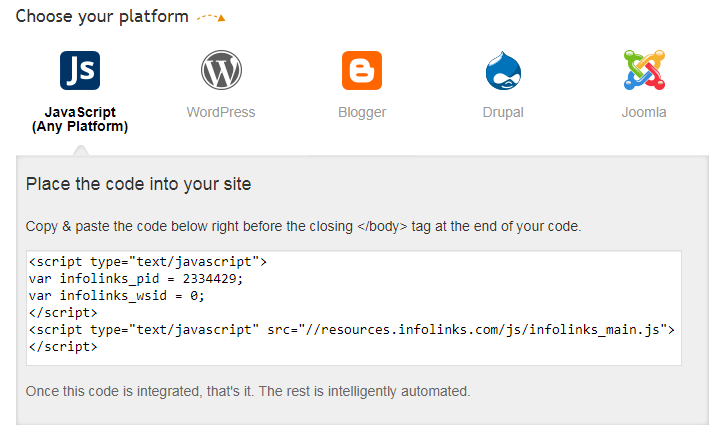 This code needs to be inserted before the closing </body> tag at the end of the code on all pages. Instead of using Infolinks plugin (WordPress platform icon) we'll show you how you can use Ad Inserter to insert this code – choose JavaScript code (Any Platform). In Ad Inserter the position before the closing </body> tag is called Footer. Paste the code into Footer code window, enable footer code (the button top right should be green) and save settings: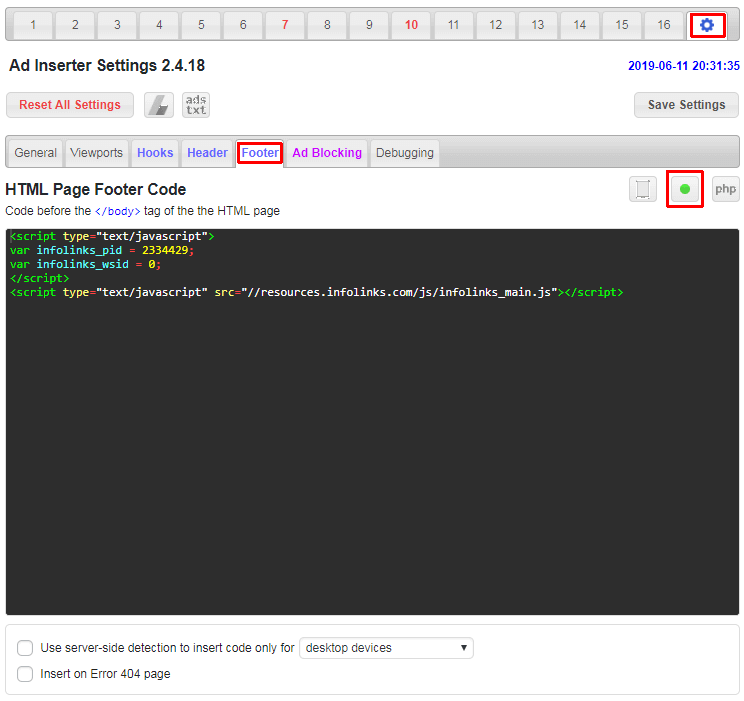 The last step is creating ads.txt file. Infolinks requires that you follow the IAB ads.txt file initiative. This file lists Infolinks as an authorized reseller of your traffic. Publishers who do not add the ads.txt file are at risk of losing out on earnings from our top advertisers. To get Infolinks items for ads.txt click on the Ads.txt top menu icon in Infolinks Publisher Center – you should see lines that need to be added to the ads.txt file on your website:
In Ad Inserter you can easily create or edit ads.txt file. Click on the ads.txt button in the header toolbar to open ads.txt window.

Switch to editor mode:

paste Infolinks lines to the window below and save ads.txt file.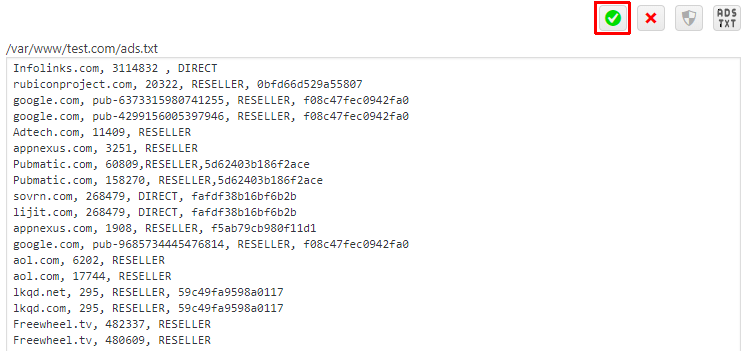 Now you can switch to the table view where you should see all ads.txt lines which should include Infolinks lines. Click on the ads.txt button top right will open your ads.txt file in a new browser tab.